六、四肢肌 Six, limb muscle
(一)上肢肌 (A) the upper limb
可分为肩肌、臂肌、前臂肌、手肌。 Can be divided into the shoulder muscles, arm muscles, muscles of the forearm, hand muscles.
1. 1. 肩肌 Shoulder muscle
主要有三角肌、冈上肌、冈下肌、小圆肌、大圆肌、肩胛下肌等。 There are deltoid, supraspinatus, infraspinatus muscle, teres minor, teres major, subscapularis, etc.
三角肌:位于肩部,可使肩关节外展90 0 。 Deltoid: Located in the shoulder, can shoulder abduction 900.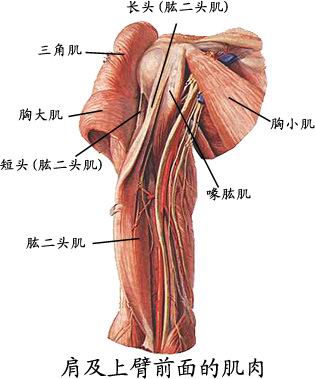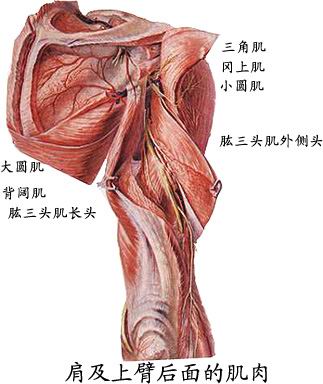 2. 2. 臂肌 Arm muscle
分前后两群。 Hours before and after the two groups.
(1)前群:主要有肱二头肌、喙肱肌、肱肌等。 (1) before the group: There biceps, beak brachialis, brachial muscle and so on.
肱二头肌:两个头,作用于肘关节。 Biceps: two heads, acting on the elbow. 可屈肘关节及前臂旋后。 Can be bent elbow and forearm pronation.
(2)后群:为肱三头肌,三个头,作用于肘关节。 (2) After the group: for triceps, three heads, acting on the elbow. 可伸肘关节。 May extend the elbow.
3. 3. 前臂肌 Forearm muscle
比较复杂,位于桡、尺骨周围,包括前后两群,每群又可分为浅、深两层。 More complex, located radius, ulna around, including front and rear two groups, each group can be divided into superficial and deep layers. 前群一般为屈肌(屈肘、屈腕、屈掌、屈指)或旋前肌(前臂旋前),后群一般为伸肌(伸肘、伸腕、伸掌、伸指)或旋后肌(前臂旋后),每块肌的功能多与名称一致。 Former group generally flexors (elbow, wrist flexion, flexion palm flexor) or pronator (forearm pronation), after the group generally extensor (elbow, wrist, Shen Zhang, extensor) or supination muscle (forearm supination), consistent with the name of each function more muscle.
(1)前群:共9块,浅层由桡侧向尺侧依次为: 肱桡肌、旋前圆肌、桡侧腕屈肌、掌长肌、指浅屈肌 和 尺侧腕屈肌 (图2-4),深层包括 拇长屈肌、指深屈肌 和 旋前方肌 。 (1) before the group: a total of nine shallow by radial ulnar side were: brachioradialis, pronator teres, flexor carpi radialis, palmaris longus, flexor and finger superficial flexor carpi (Figure 2-4), including the deep flexor hallucis longus, refers to the deep flexor and pronator muscles.
前臂前群肌名称 Forearm muscles before the group name
前臂前群桡向尺 Forearm before Qunraoxiangchi 肱桡旋前桡腕屈 Brachioradialis radiocarpal flexor pronator
掌长指浅尺屈腕 Feet long finger metacarpal superficial flexor wrist 拇长指深深方居 Habitat refers to deep square hallucis longus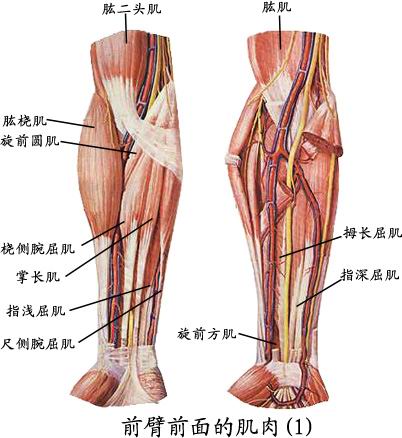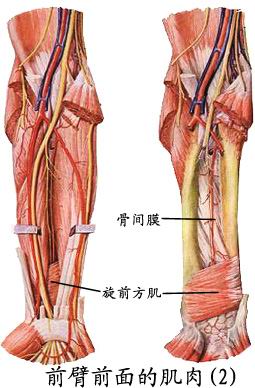 (2)后群:共10块,浅层由桡侧向尺侧依次为: 桡侧腕长伸肌、桡侧腕短伸肌、指伸肌、小指伸肌 和 尺侧腕伸肌 (图2-5),深层由桡侧向尺侧依次为: 旋后肌、拇长展肌、拇短伸肌、拇长伸肌 和 示指伸肌 。 (2) After the group: A total of 10 shallow by radial ulnar side were: carpi radialis longus, extensor carpi short, refers to the extensor little finger extensor and extensor carpi (Fig. 2-5), deep from the radial ulnar side were: supinator, abductor hallucis longus, extensor pollicis brevis, extensor hallucis longus and extensor index finger.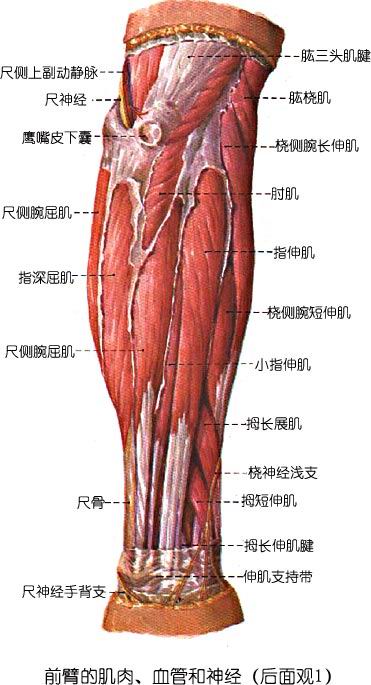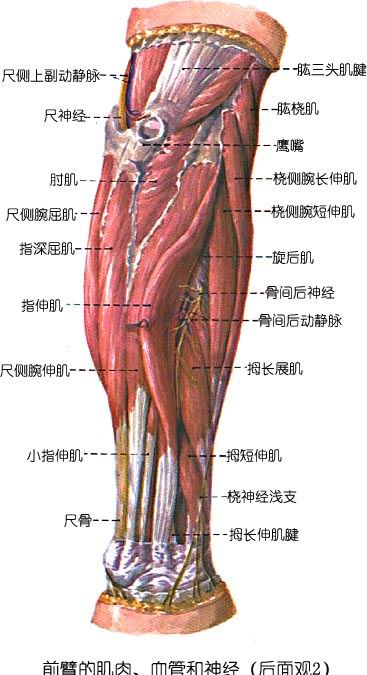 4. 4. 手肌 Hand muscles
可分为外侧群、中间群、内侧群。 Outside of the group can be divided in the middle group, the inside group.
(1)外侧群:较发达,有4块,作用于拇指,隆起形成鱼际。 (1) outside of the group: the more developed, there are four, acting on the thumb, thenar uplifted.
(2)中间群:位于掌心或掌骨之间。 (2) intermediate groups: Located between the palm or metacarpal.
(3)内侧群:有3块,作用于小指,形成小鱼际。 (3) the inside of the group: There are three, acting on the little finger, forming hypothenar.